---
F

or Sale:
POSTCARD BOOK
30 different postcards of the life surrounding the BAR-D Ranch!
5x7, quality postcards
$15
425-432-3224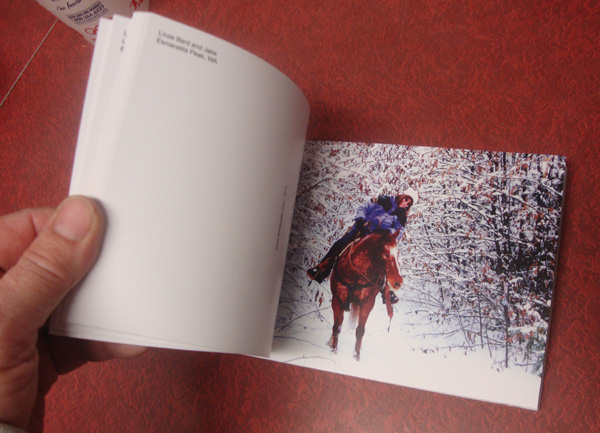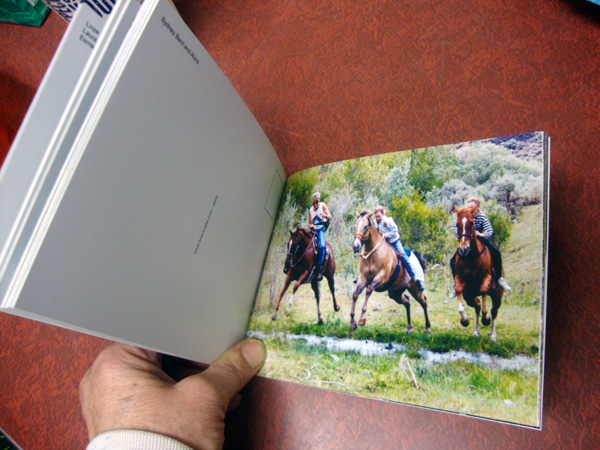 Kangaroo hide whip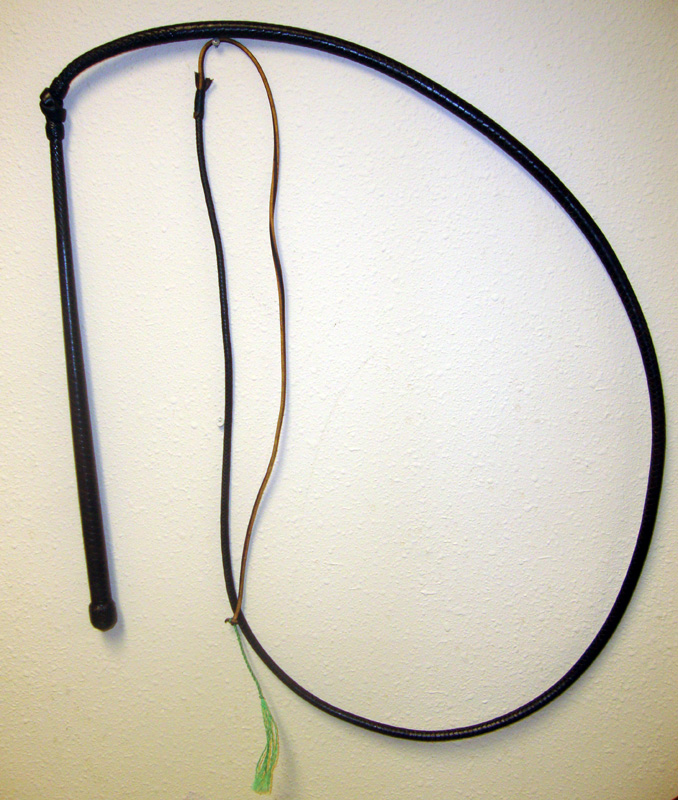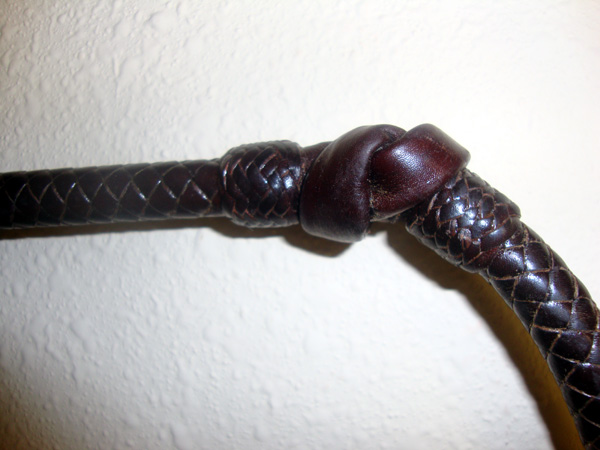 Hand made in Austrailia, selling for a friend.
6 foot stock whip, amazing workmanship.
Inquire bar-d_ranch@msn.com
$500
---
---
Horses Recently
SOLD:
---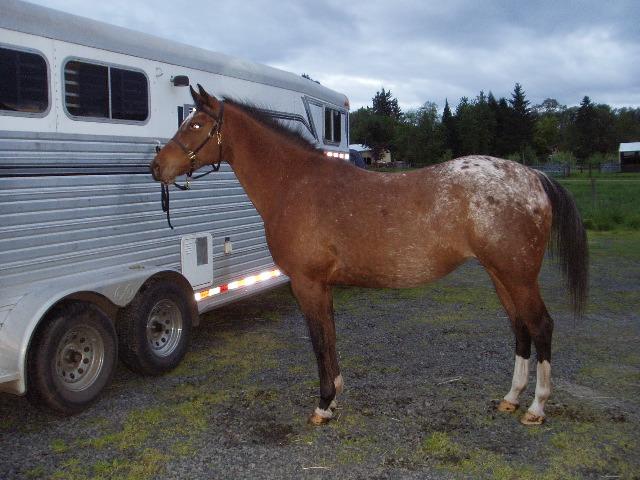 Ruffles Wrangler
sire- Sir Wrangler
dam- Parika, purebred Arabian
smooth moving, great calm temperament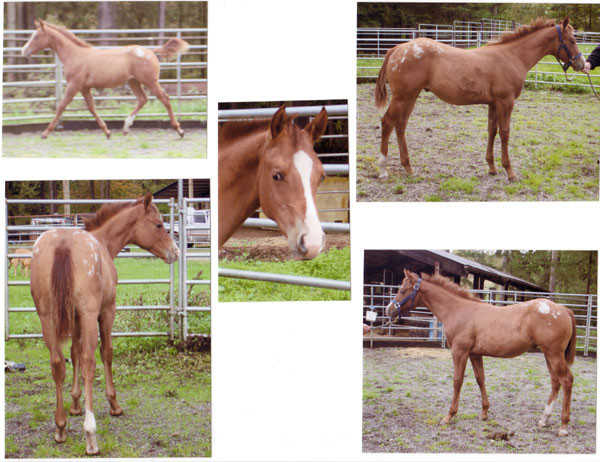 Sir WT Ruger- 2007 colt
Sire: Wrangler's Toolman
Dam: IB Dun in Red (Sonny's Apollo)
Should be over 16 hands, unique individual.
---
SIR QUESTER
SOLD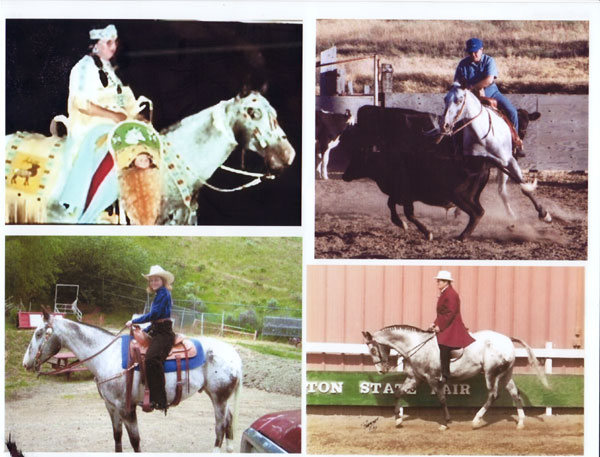 Hi Jan,
It's been awhile since I talked with you. I thought I'd let you know that it looks like I'm going to be selling my Sir Wrangler gelding later this summer. The girl that has been riding him seems to be at the age where she's losing interest. I'll keep him thru August 19th, which is the end of our Jr. Horse fair, so she can finish up the year in 4-H. Since I bought a young quarter horse filly last fall to cut cows on, Quester has only been ridden a few times. He's way TOO good of horse to be left standing around to grow old alone!
Quester is now 15 years old. He has been shown western, hunt seat, saddleseat, trail, costume, & even driven twice at shows. He was Washington State Horsemen Hi point Appaloosa, both english & western in 2001. That same year, he was also the top trail horse & saddleseat pleasure horse among all-breeds. Since then, all he has done is trail ride & work cows. He loves cow work, but is too slow & lazy to be really good at it. Elizabeth has shown him a few times in local 4-H shows & has done real well both english & western. She's a real timid rider & he just seems to know to be good with her ( & not try any of the stunts he's tried with me over the years!). He would also make a great lesson horse. Since I've been away from the show world for awhile, I'm not sure what a horse like him is worth. I think I'll price him at $7,500. & would make considerations to the right home. I've had Quester since he was two, so finding a good home for him is of the utmost importance.
Since I'm only doing the cutting shows now, I'm also selling my silver show saddle & equipment. If you would pass the word around, I'd appreciate it. I'll probably endup listing it on e-bay later if I don't sell it locally. I will try to get some pictures of it taken soon.
It's been a real pleasure to own & show a Sir Wrangler son. I hope you can help me find a really good home for Quester. Thanks!
Loraine V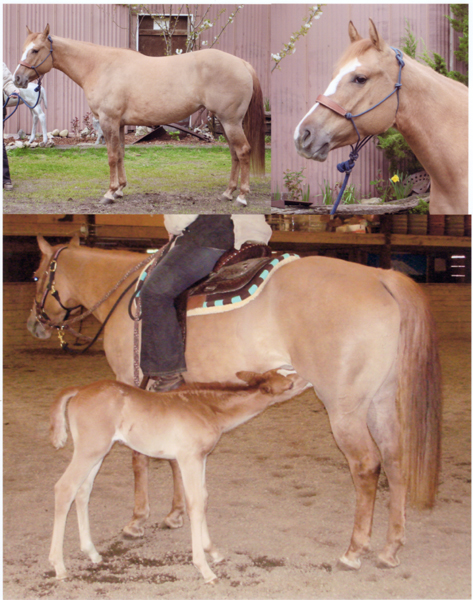 Dunit in Wranglers, a 2003 Toolman daughter with a Predestined colored filly by her side.
Greenbroke, great calm attitude. Big red dun mare.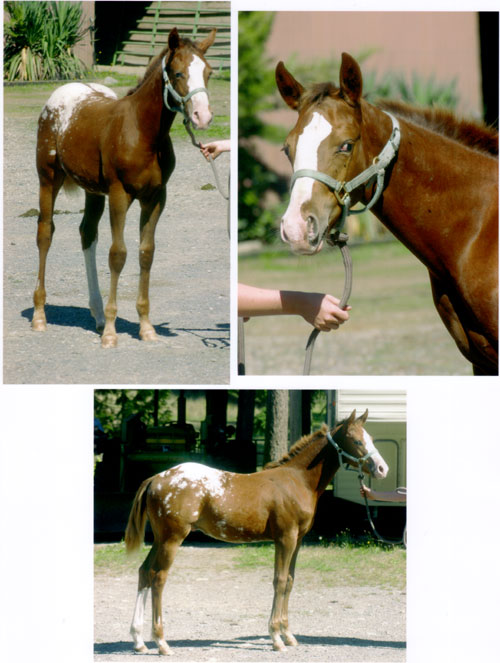 2004 Sir Wrangler gelding, out of Lacey Royale. Lacey is the dam of 2004 National Champion Hackamore Reining horse, Topsail CJ.
. Congratulations to Sue and Roger Baker of Auburn, Wa.
Wrangler's Coop DeVille is a cool, calm, sensible indiviual. Will make a World class Trail horse, at the least!
---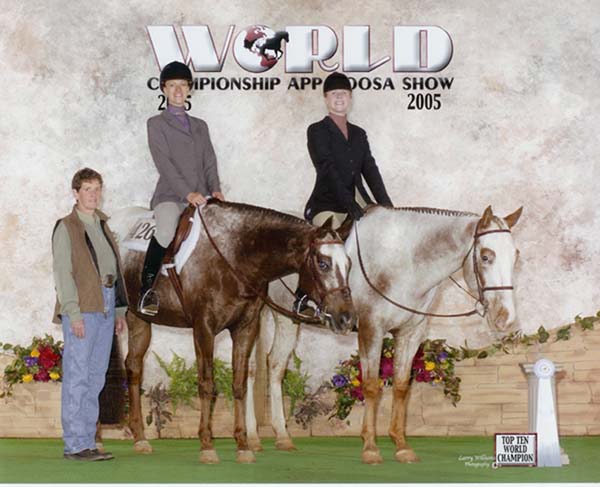 SOLD

I just wanted to thank you for putting Dusty up on your site. He has now sold he fell in love with him from the moment she first laid eyes on him...so did 12 other college-aged girls! My old trainer coaches the WWU Intercollegiate riding team and she used Dusty for their lesson. Amber is sooo excited, because now she has a horse her and her husband Scott can ride (he fell in love with Dusty too) and a couple of the WWU students are going to do a partial lease on him as well. Dusty has touched many hearts and will be greatly loved up there. He is in the exact situation I wanted him to be in...he lives on 80 acres and will be riden almost daily and loved beyond belief. I just wish you could have seen all the college students, Amber and her husband's smiling faces as they all tended to the gelding with the biggest heart I've ever seen! Thank you to you and Sir Wrangler for producing such wonderful, gentle horses that are not only a true asset to the Appaloosa industry, but to the whole horse industry in general.

Desperado Moon (Dusty- on right). I would like to tell you about this sweet gelding. I purchased Dusty last December as a project horse. He lived his whole life in Shelton, WA, as a trail horse. I purchased Dusty and took him back here to Idaho and put him in training with Tami McClure. Since that time I showed him at one ApHC regional show here in Idaho where he earned 1.5 points in Novice Non Pro Hunt Seat Equitation and 1 point in Non Pro Hunt Seat Equitation. Also, a friend of mine's daughter, Brittany, rode him in the youth walk-trot and he won the all-around walk-trot (out of three walk-trotters) at the I.O.N. ApHC Sun Sizziling Spots show here in Idaho. Brittany also won the I.O.N.'s year-end champion walk-trot award on Dusty. But it doesn't stop there, a friend of mine wanted to go to the World show and so I said, "Let's go." Needless to say, I rode Dusty in the Novice and Non Pro Hunt Seat Equitation classes and we placed 10th (out of 20 riders) in the Novice Non Pro Hunt Seat Equitation class at the 2005 ApHC World Show.

I just wanted you to know that Dusty has been a wonderful horse and has done so much in so little time. He stands about 15.2 hh, is registered chestnut gelding (looks more like a red roan), and is sired by sir wrangler and his dam is Baby Bright.
---
FOR SIRTAIN, aka Loki. 2004 Sir Wrangler colt.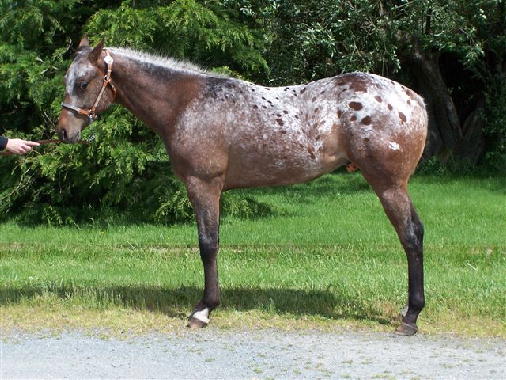 dam: CR Mis Superdream by CR Dreams
Loki has beautiful, smooth gaits. He has won a Reserve Championship at halter at the local shows and is showing in-hand trail. He can compete at Lunge line at the National or World level!
He does have a short tail and will need an extension. He will make someone a wonderful companion
---
Wrangler's Top Gun - 2003 gelding. Owned by Melissa Vreeberg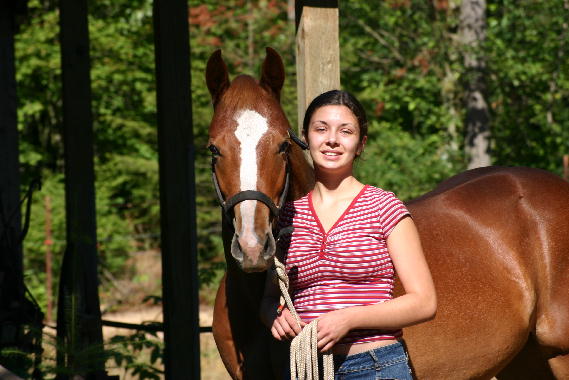 ---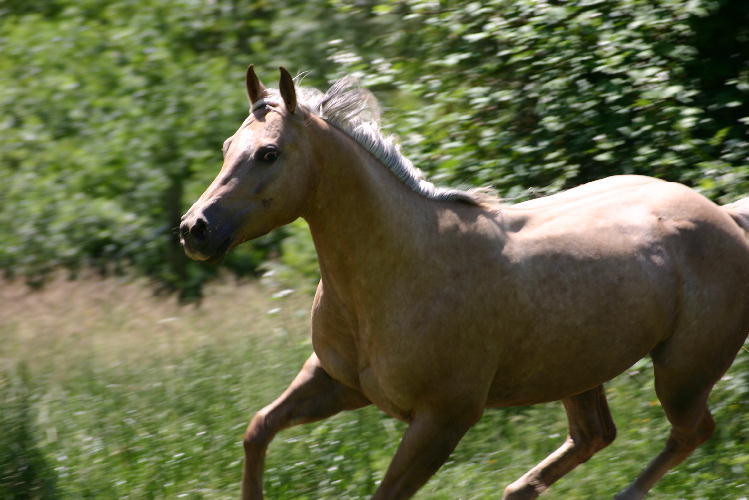 A
The Wrangler Blonde, sold to Kandis Shrout, Woodinville, Wash.
---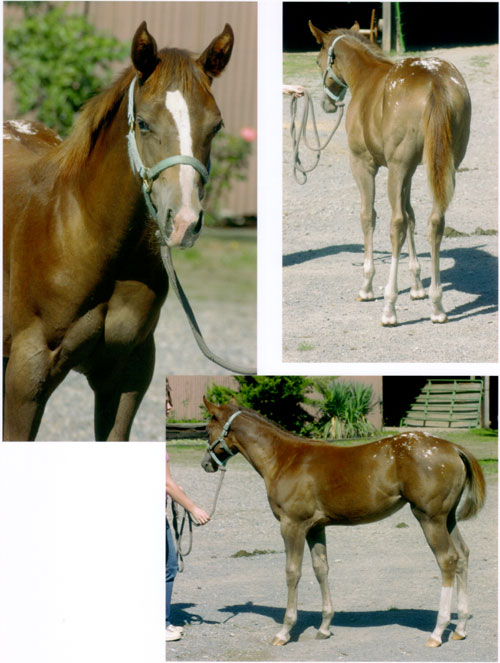 2004 filly , Wrangler's Isabella, by Sir Wrangler out of The Texan Blonde (by Mighty Texan)
---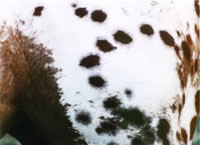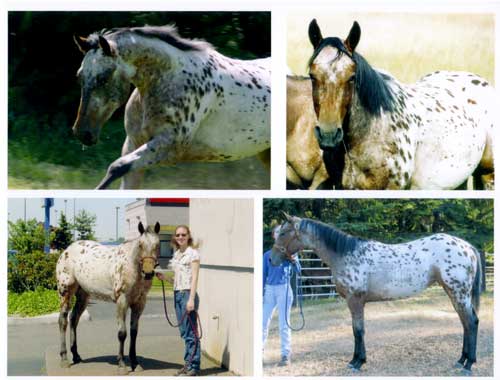 "Rainey" is presently north of Billings, Montana, being trained. She is a very friendly mare and has a unique circle of spots on her left haunch. Her dam is a few spot leopard with the breeding of Haye's Roman Cloud, Apache II, C.R.Bull, Navahoe Britches,and Colida.
Her sire is Wrangler's Toolman.
Rainey is an extremely smooth gaited.
---
2004 filly by Sir Wrangler, out of Lady Baretta,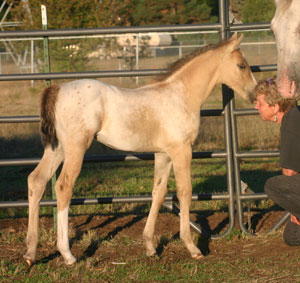 ---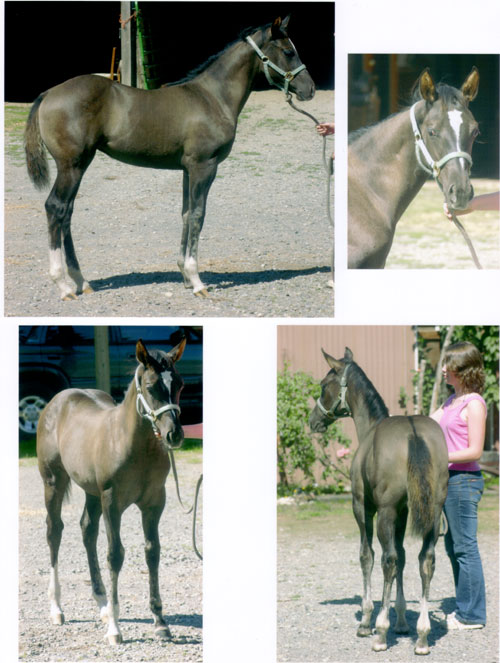 2004 grulla filly by Sir Wrangler out of I Be Dun in Red (Sonny's Apollo)
Big, beautiful filly.
---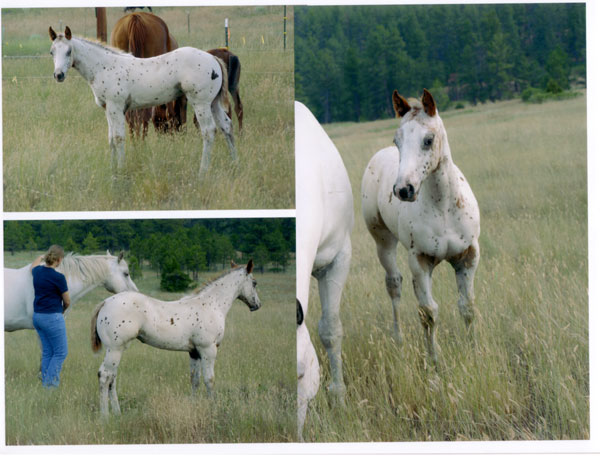 Full weanling sister to AwholeLottaWrangler. Presently in Maple Valley, Wash.
---
REYMOND WRANGLER~ 12 yr old Registered Appaloosa Gelding with champion bloodline!
I am leaving for college and sadly must sell Reymond…to approved home only. This horse can do it all. Flying Changes with ease. Numerous Huntseat and Western High Points in 4-H and open shows ·Excellent in Showmanship. Too many Grand Champions in Trail to list ·Has competed in Breed Shows. Has participated in Drill Team and parades. No vices. None. Anyone can ride but should have intermediate to advanced rider to achieve what he can do! Thrives on attention. He will be available July 12 of 2004. Price $10,000.
---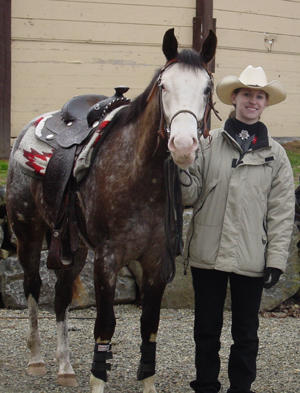 Hotroddin Harley
2002 appaloosa gelding with close up pedigree of Hottroddin Zippo and Dynamic Deluxe!
Started in Western Pleasure by Sydney Bard, winning a walk trot class first time out!
Eligible for the 2004 Tall Timber Stallion Auction Futurity
---
Wrangler in the Straw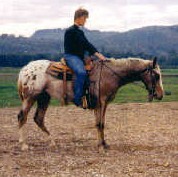 2002 gelding son of Sir Wrangler, Dam NSA Rapid Transit out of Q'uapelle Cora Te
I am asking $4,000 for Levi. He is very quiet and should be great for youth or non-pro. He has not been pushed. Will mature at 16.1 hands. Clips bathes hauls, trims, shots etc. He is eligible for the Tall Timbers
The picture is with a tail extension so that people can see what he will look like ready to show. I am not trying to hide anything.
.
---
Wrangler's Parika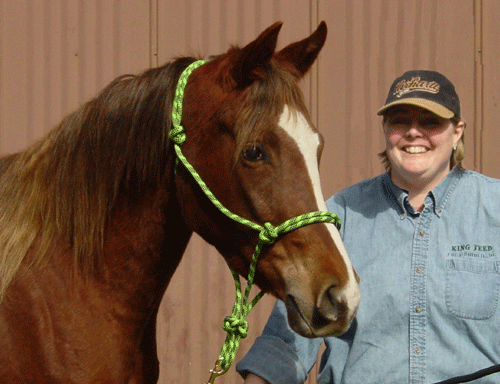 Sire: Sir Wrangler, Dam: BA Parika by * Parik
Raffles in pedigree - Extensive Show Record

Half Arab 2001 Filly
Beautiful head, Wrangler eye. Unlimited potential.
SOLD - Look for Rika and Donna Moore, the team to reckon with!
---
Ms. Wrangleretta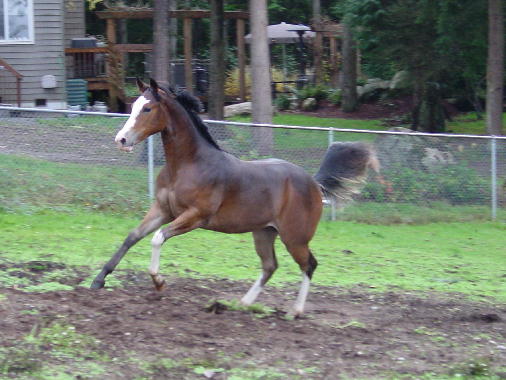 Sire: Sir Wrangler, Dam: Debonaires Cheri (by Debonaire Dude)
Yearling appaloosa FULL SISTER to multiple WORLD and NATIONAL champion DUDE TO WRANGLER. Ms.Wranglerette is by Hall of Fame, SIR WRANGLER. Her dam, Debonaires Cheri (by Debonaire Dude) has 5 ROM's in performance and halter!
Etta has an outstanding personality and temperament. Stands 15 hands as a yearling and has tremendous PRESCENSE. She is a very smooth mover and should make a World Class Champion. Etta could be used for longe line the rest of this year, then started under saddle in the fall. This filly is starting to roan and is regularly papered.
SOLD
---
---
2002 Colt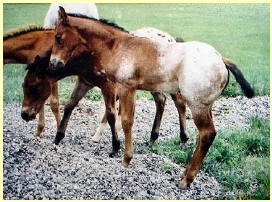 Sire: Wranglers Toolman Dam: Box K Stellar One AQHA 338,2276
Goes back to Zans Two Eyed Bar by Zan Parr Bar and Two Eyed Jack.
Bay roan colt.
Unlimited Potential.
---
2002 Filly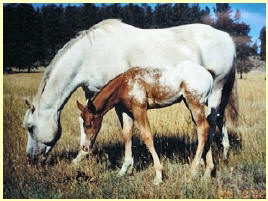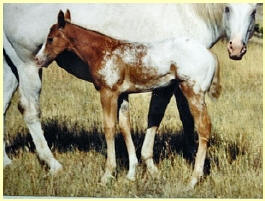 Sire: Wranglers Toolman Dam: Palomino ApHC daughter of Mighty Andrew.
Goes back to Mighty Bright, Baretta Bright, and Prince Fury.
Sorrell blanketed filly
Gorgeous filly, straight legged, beautiful head, big hip.
-
---
Cayanne Wrangler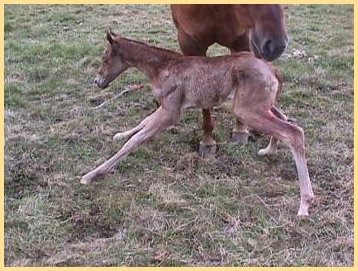 Sire: Sir Wrangler, Dam: I B Dun in Red (x Sonny's Apollo)
2002 Filly Red Roan (Classy)
Regular papers, roaning and characteristics evident.
SOLD
---
BA Raffled Wrangler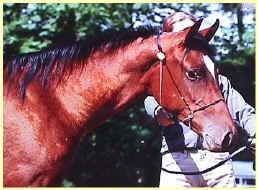 Sire: Sir Wrangler, Dam: BA Parika by *Parik
Raffles in pedigree ** Extensive Show Record
Half Arabian 2 yr. old filly. Will be 15.2 Hands. Endurance prospect.
(photos 7-30-01)
---
Wrangler's Reynger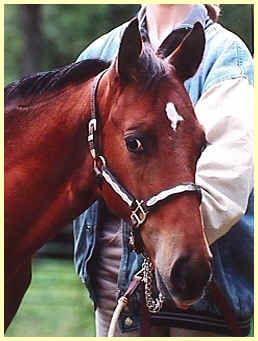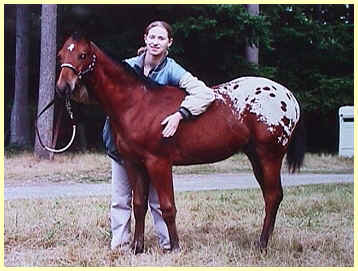 Sire: Wrangler's Toolman (double bred son of Sir Wrangler)
Dam: Rey Jay Command - AQHA cutting bred mare
2001 Gelding
Wonderful Disposition (photo 7-30-01)
SOLD - Congratulations to Amanda Peterson of Oregon
---
Rockin in Wranglers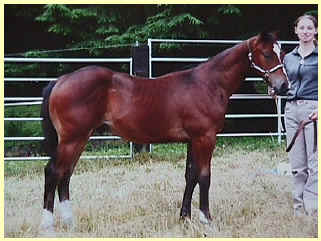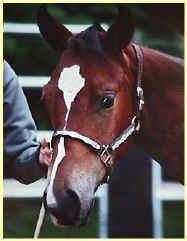 Sire: Sir Wrangler, Dam: I B Dun In Red by Sonny's Apollo
This is the next Wrangler's Bear or Echo's Sirprize
The WORLD is his potential ** Show home preferred.
2001 Gelding (photos 7-30-01)
Congratulations to Summer DeHart of Georgia
---
The Blue Eyed Wrangler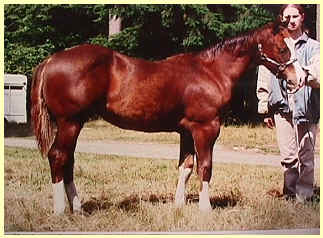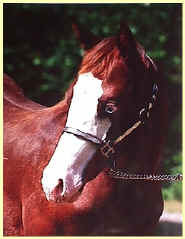 Sire: Sir Wrangler, Dam: The Texan Blond by Mighty Texan by Mighty Bright
2001 Solid chestnut appaloosa gelding. This lovable colt has been shown in open showmanship and halter. He has a 45 degree shoulder angle creating smooth movement. Blue's easy-going attitude makes him a wonderful prospect for performance, trail, kid's horse, or maybe just a fancy lawn ornament. All of which would be fine with him! He was imprinted at birth and will pick up all his feet. Worming is a breeze as well. No fuss. He will even stand still while you band his mane in the cross-ties! I hate to let him go, but I have too many other horses to work with and he is being somewhat neglected in that department.
. - SOLD - Contact Linze Bard (425) 432-3224
---
Wrangler's Sonny Dee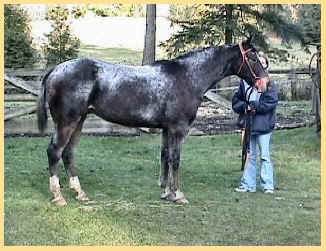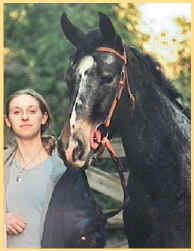 Sire: Sir Wrangler, Dam: IB Dun in Red by Sonny's Apollo
1999 Gelding
Gentle giant, stands 16-1 hands as a 3 year old, and has strong, straight legs. Green broke but wants to please. Tail short and growing (thankfully, fake tails approved for showring!). Owned by Joan Ferguson, for any question. He is

- Congratulations to Jim Peters of Maple Valley, WA.
---
2002 Filly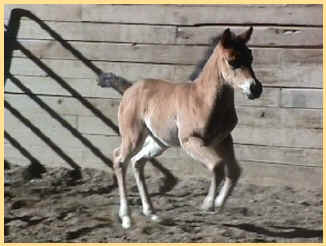 Sire: Sir Wrangler, Dam: Made to Pleasure (x Go Again)
SOLD -