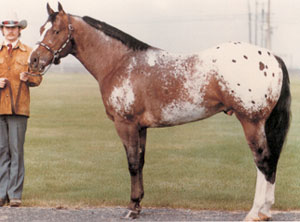 Born 1977, Wrangler was 15'-2 hands, 1150 pounds. He was a bay roan with a large blanket and spots. Bred to any type mare he produced horses with excellent minds that are smooth movers. Bred to an AQHA type mare, he also produced a halter horse that rides! Wrangler's dominant traits were large well set eyes, great neck and shoulder angles, long croup, straight legs and V'd chests. He always produced an individual that was versatile and smart. These horses became lifetime family members. Wrangler left his mark on everyone he met. You can always tell a Wrangler by the big, kind eye.
Joe and I have coined many phrases, but our favorite is ...
"IF YOU OWN A WRANGLER YOU HAVE A FRIEND WHO WILL SHOW YOU THE WORLD"
Check out the Jan. 2004 issue of the Appaloosa Journal and the article on Sir Wrangler!
| | |
| --- | --- |
| Wrangler was the Northwest's first ApHC CHAMPION. He earned this by winning all necessary points at halter, Western Pleasure, Western Riding, and English Hunt Seat. World renown AQHA trainer, Steve Metcalfe started this great horse and took pleasure in riding him to many wins. Joe and Jan Bard continued to show Wrangler and earned him this title. | |
LEADING LIVING SIRE OF YOUTH AND NON-PRO HORSES
This was Wrangler's greatest achievement. His foals are versatile, athletic, pretty, and good minded horses. They are used in virtually every capacity. A few examples:
Jessica Evans on Echo's Wrangler had a 89.5 Points in her 1998 National classes and was Reserve Youth Champion to another youth who had 90 points on 6 different horses! This team at the 2000 Nationals won 6 classes, the top 16-18 youth honors, and the Versatility Championship. Nikki St. Pierre on Echo's Sirprize won National Champion Open Western Pleasure (over all trainers) on her 16th birthday! Sirious Cash has many Jr. Western Pleasure, trail and driving wins as a 3 year old. Her full brother Sirplus Cash won National Champion Jr. Trail horse! Sirafin was National Junior Trail Horse as a 3 year old. I Be Wrangler was 2001 National Champion 16-18 Trail Horse. Sir R Valentino is excelling in the dressage and jumping arena. Lansir won Youth Hunter Hack at the 1996 Nationals. Sirvived was my mountain horse before he was sold (in Joe-s words - he's too valuable to throw off some cliff!) into the show world, winning innumerable National Championships. At the 2000 Nationals he won trail class, top youth 12 and under, and Reserve Versatility Champion. National Champion Wrangler's Bear continued to win many shows after an accident turned him completely blind!
The 1997 World Show had two 3 year olds, Dude to Wrangler and Spank My Wranglers, tie for first in Junior Trail (class of 40 five year and younger horses.) These two horses at the 1998 World Show won Trail (Dude) and Saddle Seat (Spanky). Spank My Wranglers in 2000, by herself, won Kim Haney Black a Supreme Champion Lifetime Award. Most riders use several horses to obtain the needed points.
There are Wranglers at every National Show who continue to win. These horses with their magnificent minds and movement become lifetime members of the family.
There are so many horses not accounted for by national points that receive top honors in 4H, open, and B system shows. We are proud of them ALL!
These horses have earned as of MAY 2006:
| | |
| --- | --- |
| | 7394 Youth Points |
| | 2166 Open Performance Points |
| | 368 Halter Points |
| | 1654 Non Pro Points |
| | 64 ROM's |
| | Over 80 National and World Class wins |
| | 14 medallions; 1 gold, 1 silver, 8 bronze (youth and non pro don't count!) |
Thus earning the praise, "The only thing more threatening in the ring than a WRANGLER is another WRANGLER!"
There IS life outside the show ring! Wranglers are seen from working cattle to mountain riding. My best friend, Chris Nelson, and I have been spending 2 weeks every summer in the mountains for 25 years. Wrangler horses have gotten us out of many a scary moments and place and have been the vehicle for making lasting friendships and memories (and stories). They have supplied me with unlimited photographic opportunities, and contest wins. Why not have safe, good looking mounts?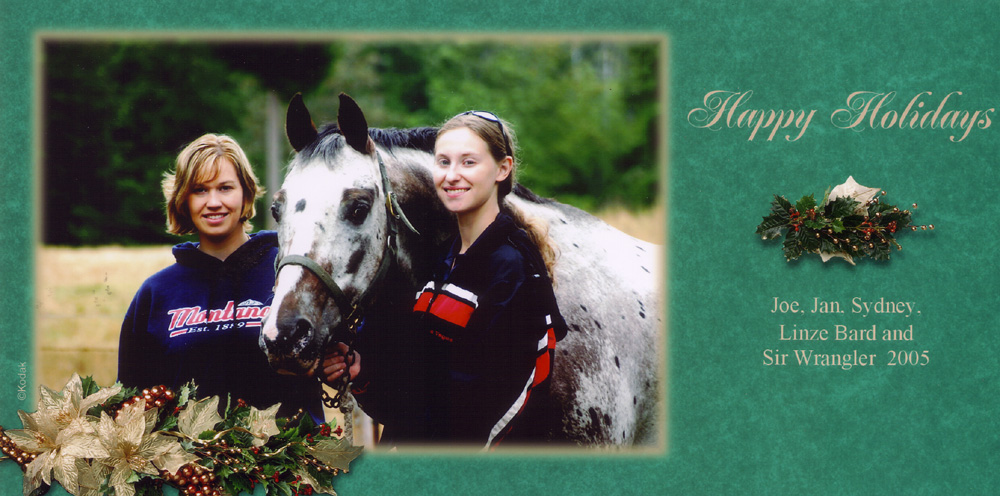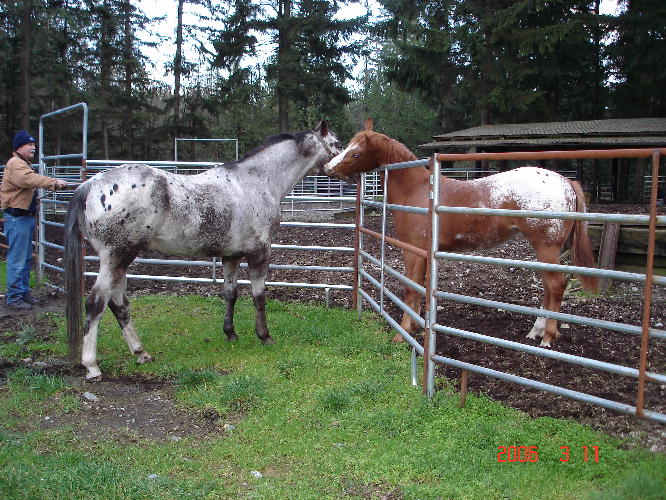 Wrangler, March 12, and his yearling son, Zip Up My Wranglers. Photo taken a couple days before this GREAT sire died.